Table of Contents
Overview
Sigsync Features
Sigsync Technical Details
Ease of Use
Privacy and Security
Free Product Demo and Trial
Customer Support
Pricing Plans
Refund Facility
Concluding Words:Sigsync Office 365 signature Review
FAQ
Sigsync Email Signature for Office 365 provides full control over your email signatures and disclaimers in Microsoft 365 and Office 365. It's a web-based application that can generate standardized signature templates with company branding, user profile images, social media icons, and Azure Active Directory (AD) data. With this solution it is possible to use different email signatures between internal and external emails, new and subsequent emails, and emails sent by different departments. In such cases, you should also check o365 SPF records to ensure proper email deliverability. The application supports all email clients and devices, including mobile phones and iMacs. Continue reading to learn more about this email signature solution and how it can assist you with managing and centralizing  professional signatures.
Sigsync Features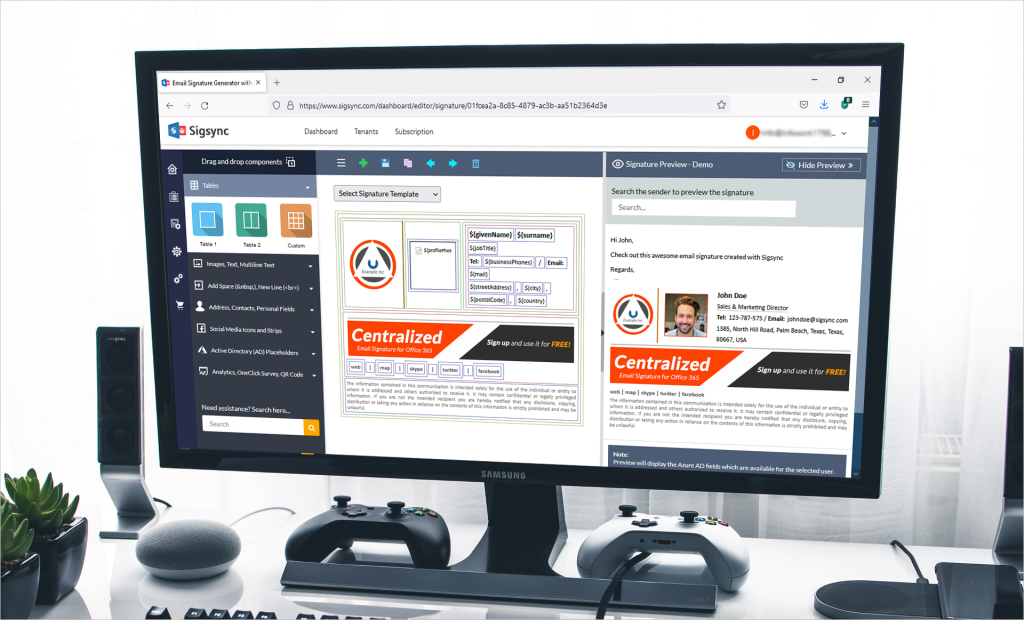 We begin with Sigsync features, going over the most important ones and how it provides a tailored solution to some of the problems that users face on a daily basis.
Centralized Office 365 email signature management
Many organizations find it extremely difficult to centrally manage signatures. If the signatures are inconsistent, the brand's image suffers as a result. This challenge necessitates centralized email signature management throughout the organization. Sigsync's Office 365 signature manager assists you in creating email signatures that are both professional and functional on any device. To ensure comprehensive brand consistency, you can centrally create and manage email signatures for an entire organization. You can also manage them from a single centralized dashboard. Sigsync's Dashboard is unique and has a clean interface with all of the necessary tools and options at your fingertips.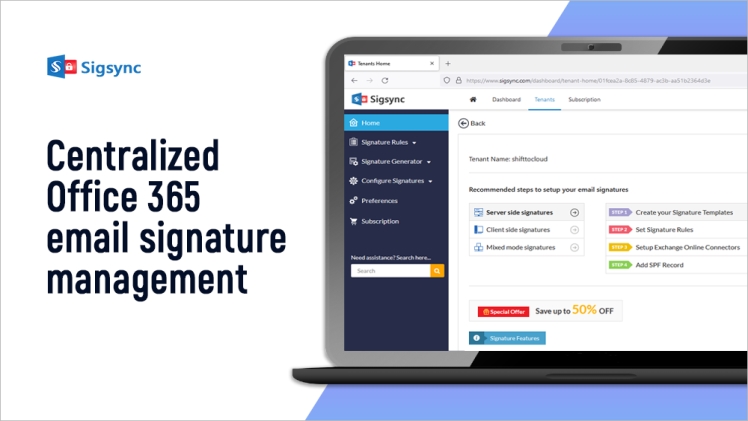 Signature Generator to design signatures
Another frequent difficulty is creating your own email signatures. Those who are not HTML experts are left in the lurch if they want to create their own custom signature. To address this issue, Sigsync's signature generator enables you to create and edit signature templates in real time. You can create each template from scratch and put your design skills to the test, or you can use one of the free templates available without any HTML or other coding skills. The various components are easily accessible and can be arranged using the drag-and-drop function. Sigsync Signature generator allows you to create personalized designs with graphics, clickable links, eye-catching banners, images, Social media icons, and more.
In essence, you can use your email signature to create a virtual business card that establishes your brand identity, informs prospects about what you have to offer, and personalizes your outreach.
There are literally hundreds of professional signature templates to choose from! You can choose any design that is similar to your actual signature design and customize it to your liking.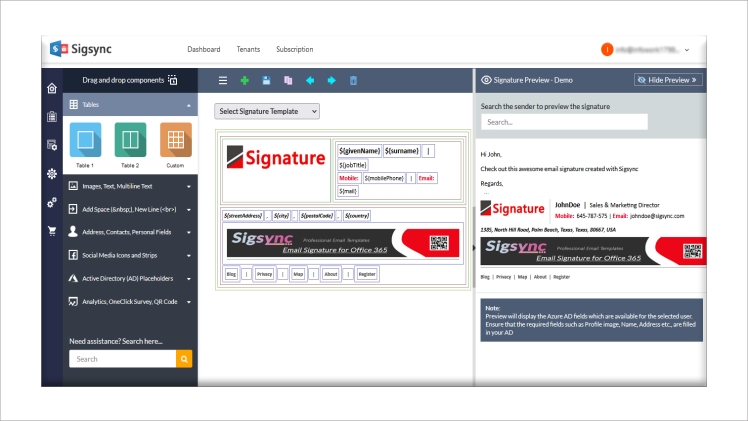 Signatures in Office 365 with Active Directory Attributes
One of the most important features of any email signature is the ability to sync and retrieve AD attributes from the user account so that any changes are updated in real time. Active Directory placeholders that dynamically extract data from Active Directory can be added to Sigsync Signature.
The various placeholders can be converted to a user's Name, Position, Department, Phone Number, Email address, Website address, and other Active Directory properties later on. Sigsync Rules capture messages with placeholders and apply a signature if they pass through Office 365. All placeholders in the template are translated into user data at the same time, depending on the senders of these messages.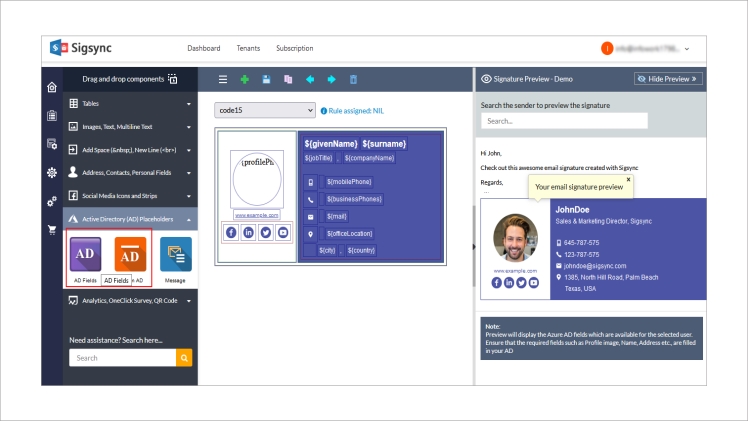 Social media icons in email signatures draws in the crowd
Social media is a powerful tool for any organization or user looking to expand their reach. It is becoming increasingly rare for a company to operate without a social media presence, and whether you use Facebook, Twitter, Instagram, LinkedIn, or Instagram, you should be regularly directing people to your social material or feeds.
Including social media icons in email signatures is a great way to gain a lot of new followers for free! Although including personal social media links in email signatures is simple, including official social media icons looks far more professional.
With the Sigsync Email Signature generator, you can quickly add social media icons (individual or entire strips) and configure it with relevant links.
Using Email Signatures to Boost Your Brand
Email is the most popular business communication channel. Email signatures are essential for a successful branding strategy and when you include branded content, it can raise awareness, increase interaction, and promote the overall value. It helps to protect and enhance your brand's reputation in order to generate tangible business results. After all, your brand is one of the most valuable marketing assets you can have, especially if it is your own.
You can, for example, prioritize and protect the elements that will give your brand a flawless professional image. If you want to manage email signatures centralized, Sigsync is a good option because it can save you a lot of time manually creating them and keeping them up to date with role and design changes. If your company has received awards, accolades, and recognitions, you can highlight them in your email signature banner image while keeping the rest of the elements the same.
Why use web analytics tools with Sigsync Email Signatures for Office 365?
What good is a marketing campaign or any other promotion if you can't track customer feedback? Many users would like to include analytics in their email signatures in order to fine-tune their marketing strategies and make them more customer-focused. There are various online analytics tools that work with Sigsync Email Signatures for Office 365 to alleviate the problem and make it simple to add analytics. This will allow you to monitor the success of your email signature marketing campaigns as well as the amount of site traffic they generate. It can also be used to include marketing banners or promotional links in your emails, making it a powerful and low-cost marketing tool for both prospects and existing clients. With the URL parameters in place, you can easily track your email signature marketing campaigns.
Set up automatic email marketing campaigns in Office 365
Sigsync allows you to run and stop specific rules at predefined times using the Scheduler. This enables you to set time-specific activities at different intervals for all or selected email signature rules.
Using the scheduling tool, you have a fantastic opportunity to send out targeted marketing banners to a selected set of users. You can use different email signature rules and banners for different occasions such as informing subscribers about new product offers, special sales, company address changes, holiday greetings, or interacting with recipients more effectively.
Sigsync Technical Details
There is no software required to configure your Sigsync Office 365 email signature. Configure the Signature on any Internet-connected workstation and manage all signatures from a single Dashboard panel.
Ease of Use
Signature Generator
The best feature of Sigsync is its simplicity. Using Sigsync to create an email signature requires no technical or design knowledge. Email signatures can then be deployed across the organization with a few clicks.
Office 365 mail flow connectors
By configuring connectors, the Sigsync Office 365 Connector Configuration wizard manages the flow of email to and from your Office 365 organization. There is no need for technical knowledge or to set up manual transport rules because the mail flow is completely automated.
Signature rules
Sigsync's versatility enables you to experiment with signatures by configuring Signature Rules. They are straightforward and easy to use, allowing you to personalize your signatures, specify when they should appear in emails sent by your company, and which users should receive them. The signature-adding process is based on individual criteria and exceptions for each signature rule. Conditions are situations that must be met before a signature rule is triggered and a corresponding signature is added. Exceptions are the polar opposite: if they are met, your signature will not be added to that email.
Privacy & Security
Security
Sigsync is a highly secure Office 365 email signature service that prioritizes data security. It securely processes emails in Microsoft Azure Data Centers without any intermediate relay or other third-party services.
Your emails are not saved anywhere; instead, once the signature is applied, they are routed back to your Office 365 tenant.
The connection between your Office 365 Email Service and the Microsoft Azure-based Sigsync Mail Signature Service is encrypted with Transport Layer Security (TLS), and you are directed to the official Office 365 login screen with OAuth 2.0 authentication to authenticate your tenant. Furthermore, Sigsync is ISO 27001:2013 certified and HIPAA compliant, with GDPR compliant servers.
Privacy
Sigsync does not log any email content or properties, and it has read-only access to your Active Directory (WAAD), with all data stored in memory. It excludes signatures from encrypted emails because doing so would jeopardize the encryption's security. Each company that uses Sigsync has its own database for managing and creating signatures, and no one else has access to your information. Your Office 365 credentials are used to restrict access to the Signature Designer or Admin, allowing you to grant access to others as needed.
Free product Demo and Trial
You can try out Sigsync for free for 14 days before committing to a monthly or yearly plan. When you first sign up, you will receive a free trial having 1000 user mailboxes. You will not lose any of the work you did on your Signature setting during the free trial when you upgrade to a subscription plan.
Schedule a free live demonstration.
Sigsync's email signature service is available for a free live demonstration. This is the most effective way to learn about their services and begin creating signatures for all of your emails. An expert from their team walks you through the entire product in detail, answering any questions you may have along the way. The session is both useful and informative in that it allows you to learn about the entire product in a short period of time without having to experiment on your own.
Customer Support
Sigsync has one of the best product support teams and friendly customer service representatives to assist customers with their problems. They are available to contact 24 hours a day, 7 days a week. The quickest way to get a response is to use their website's live chat assistance. I must say that their response time is extremely fast, and they are eager to go above and beyond to assist you. If you run into any problems, you can get help from remote assistance. Overall, we were very pleased with the service, which was both excellent and professional.
Pricing Plans
In comparison to most other similar email signatures on the market, Sigsync has one of the most cost-effective pricing plans. The licenses are based on a monthly or annual basis, and you can select the plan that best suits your needs. Because the licenses are based on the number of mailboxes, there are no limits to the number of emails you send from each Sigsync licensed mailbox. It's also worth noting that the price for 100 mailboxes is $90, which works out to less than 0.1$ per mailbox, making it very affordable. The following table provides an overview of the pricing plans.
Sigsync Features
Trial Version
Licensed Version
All features
✔
✔
Duration
14 days
Monthly or Yearly
Pricing
Free
90$ for 100 mailboxes (monthly)
Type of License
Based on the user mailboxes. Does not depend on the numbers of mails you send
Discounts for nonprofits, schools and government organizations
Free to use
Yes
24/7 customer support
✔
✔
Free signature designing service
✔
✔
Refund Facility
Sigsync also has a refund facility. You must cancel your Account before it renews each month or year to avoid a charge to your credit card for the following month's or year's costs. You will receive a refund on a pro rata basis any subscription charges you have paid in advance if you cancel your subscription before it expires.
Concluding Words: Sigsync Office 365 signature Review
As we elaborated in this product review, Sigsync Office 365 email signature manager is the best and most reliable option for centrally managing Office 365 email signatures. The ease of use, abundance of capabilities at an unbelievably low price, well-designed centralized dashboard, and a full-featured email signature editor with over 150+ breath-taking email signature templates are just a few of Sigsync's primary features worth highlighting. We had a good time experimenting and testing the signature solution, and thanks to the simplicity of the signature generator, we were able to create a signature in no time. Another option to consider is Sigsync's free signature design service. Sigsync's experts can create stunning email signatures for you and your team at no cost. With so many features at such a low price, the Sigsync email signature solution for Office 365 deserves 5 stars without a doubt.
FAQ
How does Sigsync help me add company wide signatures?
Sigsync provides a centralized dashboard from which you can manage your tenants and their signatures through a single interface. Furthermore, adding or removing Senders and Recipients, as well as configuring signature rules specific to individual signature templates, is simple. The signature updates can be rolled out to everyone instantly, eliminating the need to update each one individually.
How can I test and become familiar with Sigsync before purchasing it?
There is a 14-day free trial version with 1000 mailbox licenses that allows you to fully test the service and all of its features. If you want to see the entire product in action, contact Sigsync support and request a free live demo where you will be guided through the entire process. If you need to refer to something, there are plenty of video guides and illustrated screenshots available.
Is there a limit to the number of emails I can send using Sigsync?
Sigsync license is based on the mailbox license per user and not on the number of mails sent from each mailbox. Therefore, you can send unlimited emails from a licensed mailbox which makes it a very cost-effective service for product marketing, brand promotion and for email campaigns.
2022 Best Quality Paid Guest Post Website List
2daybusinessinfo.com
eblogsz.com
easybuzz.info
newsbuzz24.net
gotospurs.com
newsmags.net
newstimez.info
sportswebzone.com
sportstimez.info
webblog30.com